Campari Group launches The Notes Collection to bring dephts of complexity and intensity to the non-alcoholic category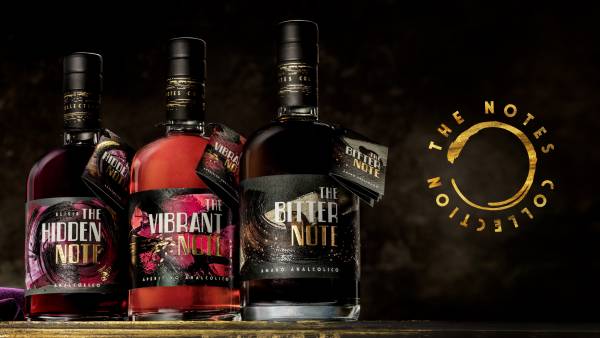 CAMPARI GROUP LAUNCHES THE NOTES COLLECTION TO BRING NEW DEPTHS OF COMPLEXITY AND INTENSITY TO THE
NON-ALCOHOLIC CATEGORY
THREE NEW EXPRESSIONS TO BRING THE WORLD TO ITS SENSES

Milan, July 22, 2021

Campari Group today launches The Notes Collection, a suite of three non-alcoholic expressions created by the Group's Innovation Team, capturing the verve, variety and inexhaustible intensity to unleash mixologist creativity . The three expressions – The Bitter Note, The Vibrant Note and The Hidden Note are the newest range of premium non-alcoholic mixable infusions. Each liquid is an invitation to experiment and play, unleashing bartenders creativity on an alluring sensory journey involving depths of complexity and flavour that will bring the world to its senses. Enjoyed as a non-alcohol serve or mixed with spirits, these are drinks infused with excitement.
A CATEGORY GAME-CHANGER FROM A LEADER IN THE INDUSTRY
A true innovation for the category, The Notes Collection draws on wide and extensive Campari Group's botanical expertise in bitters and liqueurs. The intensity of aromas and flavours comes from the nose and palate of the renown Campari Group Italian Icons Herbalist and Master Blender, Bruno Malavasi, whose genius, combined with the experience of his team, have been able to infuse and craft botanical ingredients of various nature coming from all over the world.
The Notes Collection brings new life, energy, and excitement to the premium non-alcoholic mixable category. For no-low drinkers, its depth of flavour, superior liquid quality and versatility are a revelation. The Notes Collection is mixable as cocktails and mocktails, drinkable neat as aperitifs and after-meals, and seasonally essential as winter warmers and summer sundowners.
Each expression unlocks a kaleidoscope of sensations.

THE BARTENDER'S ULTIMATE COMPANION
The Notes Collection is the taste of life in all its shades. An unexpected fusion of feelings, flavours and fragrances inspiring bartenders with a new palette to play with, giving them near-limitless mixability options, and premium-quality liquids with the versatility to match every mood and occasion. This is an unparalleled opportunity for mixologists to share the adventure with those who seek bold and unique on-trend sensations imbued with depth and bitterness.
A COLLECTION WITH MANY PERSONALITIES
The Notes Collection offers three distinct expressions brimming with character and sensory richness – three unique creations, each with its own flavour profile, personality and drinking occasion. Each expression is truly versatile and mixable, a spectrum of flavours at the bartenders fingertips. Bright and joyful. Deep and mysterious. And beautifully non-alcoholic.

THE BITTER NOTE
The Bitter Note is a delicious mix of balsamic intensity, cooling bitterness and herbal freshness layered with hints of myrrh and incense. The key ingredients – peppermint, cinchona bark and juniper – come together in a rich, dark brown liquid with fleeting glints of amber. For mixologists, this is an opportunity to exploit more pre- and post-meal drinking occasions and to create cocktails, such as the Shaken Note, rich in complexity, sophistication, and pure bitterness. This is perfect also neat or over ice.
THE VIBRANT NOTE
The Vibrant Note is the liquid equivalent of a stroll through cherry blossom – a floral and bittersweet riot of hedonistic frivolity in a brilliant, eye-catching pink. With notes of sour hibiscus and spicy, citrusy sensations from Sichuan pepper, ginger and quassia, The Vibrant Note stirs the senses. In cocktails such as the Vibrant Tonic, it gives bartenders the power to tantalize and to stimulate with luscious pink temptations, with a spicy verve and a flowery, bittersweet joy.
THE HIDDEN NOTE
The Hidden Note is intense, velvety and slightly bitter – a divine and darkly deceptive liquid cloaked in midnight purple sensuality. This enigmatic drink reveals layers of florals and spice from the rare and intriguing zedoaria, the aromatic delicacy of mace, and the bitter boldness of yellow gentian. Mixologists will revel in their ability to expose drinkers to the pleasures of ravishing bitterness and wicked refinement in visually stunning cocktails such as Bloom in Purple.
Three revelations with an infinite number of ways to Bring The World To Its Senses.

Francesco Cruciani, Managing Director Italian Icons at Campari Group, said: "Campari Group are proud pioneers, and The Notes Collection is one of its latest creation. We are introducing superior liquid to the non-alcoholic category. In these three deeply complex non-alcoholic expressions mixologists and adventure-seekers uncover layer upon layer of flavour. Each Note has its own unique character to take a drinker on an alluring sensory journey of discovery. Each Note creates boundless new opportunities for inventive serves and mixological experimentation, for before and after meals as well as early evening and late at night."
For more information about The Notes Collection visit www.thenotescollection.com.
#TheNotesCollection
#TNC
#BringingTheWorldToItsSenses
-ENDS-
For media enquiries, please contact:
Chiara Latella
Global Brand PR Manager Italian Icons & Gin
chiara.latella@campari.com