Art Without Walls: CAMPARI launches the UK's largest outdoor art gallery – to champion and support the art industry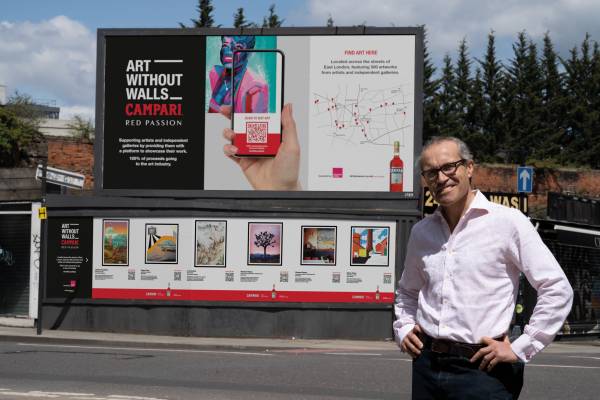 Art Without Walls: CAMPARI launches the UK's largest outdoor art gallery – to champion and support the art industry
- Curated by Will Ramsay, founder of the Affordable Art Fair, the gallery is designed to inspire the nation's own creative passions
- Covering the streets of East London for two weeks from 14 June, the gallery features 500 artworks from artists and independent galleries
- Public can purchase the art using QR codes, with 100% of proceeds going to support the art industry
For immediate release. London, 07 June 2021.
CAMPARI has joined forces with Affordable Art Fair, to launch Art Without Walls, the UK's largest outdoor art gallery – covering the streets of East London for two weeks from 14 June 2021, with vibrant art to support artists, independent galleries and inspire the nation.
After a year of gallery closures that hit artists and galleries hard, and cut the country off from a source of creative inspiration, CAMPARI and the Affordable Art Fair are repurposing space across London that would normally house adverts to instead exhibit 500 original works from independent galleries across the country.
All of the artwork will be available to buy via a QR link, which will take you directly to the Art Without Walls collection on the Affordable Art Fair site – with 100% of the proceeds going to the art industry.
By combining digital screens, posters and projections in high footfall locations, the gallery will generate the same amount of exposure per artwork as if it were hanging in the Tate Modern – the UK's most popular cultural destination – for a week.1
Art Without Walls launches at a time when the UK is feeling a renewed sense of creativity as it emerges from an historic crisis.
Research commissioned by CAMPARI reveals that 77% of people are more open to arts and culture than before the start of the COVID-19 pandemic. Unable to leave their homes or meet friends, and with an historic crisis to attempt to process, many turned to creative activities for the first time during the pandemic with photography (48%), drawing (45%), painting (39%) the most common. As a result, 68% of people admit that diving into an artistic diversion helped them to cope over the last year, with 64% hoping to continue with their newfound creative passion as a degree of normality (hopefully) returns.
The research also reveals that the British public are willing to invest in the art industry to help with its recovery post lockdown, with over half of respondents (56%) more likely to buy art as a result of their newfound creative interests.
Working with CAMPARI on Art Without Walls is Will Ramsay, founder of the Affordable Art Fair, who curated the vast outdoor gallery in the heart of the capital.
Ramsay said: "My mission has always been to democratise the art world and make it accessible to all. Working with CAMPARI to bring art into the outdoors and showcase the inspiring work of artists we have on our doorstep is a perfect example of this. Whether you're interested in fine art photography or limited edition screenprints, this gallery has something for you to discover, enjoy, and take inspiration from.
"All the limited edition, original artwork in this outdoor gallery will be available to purchase, making up for the many months of gallery closures and missed art fairs. We hope that visitors will bring these sources of inspiration into their own homes – all whilst helping those in the industry look forward and move on from an earth-shattering year."
The creative industry has been one of the hardest hit during the pandemic. A report from the Digital, Culture, Media and Sport Committee found that the COVID-19 crisis presents the biggest threat to the UK's cultural infrastructure, institutions and workforce in a generation.2
According to a Parliamentary report, the decline in revenues and the number of workers furloughed in the cultural sector is second only to the accommodation and food sector – with approximately 70% of workers in arts and entertainment on furlough.3
London based artist Amy Gardner, said: "The last year has been a rollercoaster of emotions for us all. Lockdown, and the uncertainty that came with it, had a negative impact on my creativity as well as on the sales of my work with so many cancelled exhibitions. I was initially worried about the impact on my income, and like, many people, I was suddenly responsible for educating and caring for my wonderful girls, nothing short of a full-time job.
"With time, and through the support of others within the art industry, I was able to find a new level of creativity and an emergence of a whole new style and series of work that I'm really proud of and which has been incredibly well received. The Art Without Walls campaign is a wonderful show of support to the art community and I hope that my work brings some extra colour and joy to the streets of Shoreditch and to those who purchase it."
Nick Williamson, Marketing Director at Campari Group UK, said: "As a brand with a deep-rooted affiliation with the creative world for more than 160 years, we wanted to use our platform to support artists and independent galleries pushing the boundaries of creativity in the UK."
"We hope that the level of exposure created by Art Without Walls will help inspire everyone who sees it, as well as generate sales of the artworks to provide much needed support to all these talented artists who have been impacted by the pandemic over the past year."
The gallery runs alongside CAMPARI's new global Red Passion campaign that invites us to follow our own creative passions, with a series of films featuring pioneering artists from across the globe.
Over the past 160 years, CAMPARI's visionary and forward-thinking attitude has constantly pushed creativity to go beyond the norm, exploring uncharted languages of advertising and tapping into the talent of artists, painters and designers.
The brand's long held affiliation with the creative world has seen limitless creations with world famous names such as Depero, Fellini and Sorrentino, to visually express CAMPARI's passion and creativity in an intriguingly evocative way. Alongside thousands of pieces of art, posters, graphic art, design and film creations, these pieces are available to see in the Galleria Campari in Milan which opened in 2010.
To buy a piece you like from the gallery, or to simply be inspired, capture the QR link featured on the piece of art or visit https://affordableartfair.com/campaigns/campari-art-without-walls.
ENDS

For more information contact: CAMPARI@3monkeyszeno.com

NOTES TO EDITORS:
Research commissioned by CAMPARI and conducted by One Poll, survey of 2,000 UK adults, May 2021.
1. Each screen will be viewed an estimate 15,713 times a day giving each of the 500 artworks 219,982 views over the two weeks (109,991 per week). Tate Modern (UK's most visited attraction) has 5.74M visitors a year (110,000 per week). Our exhibition will generate the same number of eyeballs per artwork as hanging an artist's work in the Tate for 1 week if every single visitor saw it.
2. https://committees.parliament.uk/publications/2022/documents/19516/default/ June 2020
3. https://lordslibrary.parliament.uk/covid-19-impact-on-the-uk-cultural-sector/, Sept 2020
Social channels
Instagram: @CAMPARIUK
Twitter: @CAMPARIUK
#ArtWithoutWalls
About Campari Group UK
Campari Group UK is Campari Group's subsidiary in the UK market, headquartered in London. A multicultural and dynamic team, Campari Group UK comprises of more than 60 'Camparistas' from over 10 different nationalities.
At the heart of Campari Group UK are three main portfolio offerings. The first is the Aperitivo Champions portfolio, led by the iconic Italian brands Aperol and Campari. The second is the Urban Disruptors portfolio, featuring distinctive brands like Wray & Nephew Rum, BULLDOG Gin and Magnum Tonic Wine. Finally there is the Prestige Challengers portfolio, including exquisite brands such as Appleton Estate Jamaica Rum, Wild Turkey Bourbon and Grand Marnier.
In total, the company is proud to offer an unrivalled portfolio of more than 40 distinctive and desirable premium spirit brands.
Visit www.campariuk.com to find out more about the company and range of brands or follow Campari UK on Instagram or Twitter at @CampariGroupUK.
About Campari
Campari, the iconic, unforgettable Italian red spirit sitting at the heart of some of the world's most famous cocktails. Campari was founded in Milan in 1860 by Gaspare Campari, and pioneered by his son, Davide, who created something so distinctive and revolutionary that its secret recipe has not been altered since. Vibrant red in colour, Campari's unique and multi-layered taste is the result of the infusion of herbs, aromatic plants and fruit in alcohol and water. As well as being unique and distinctive, Campari is extremely versatile, offering boundless and unexpected possibilities. As a source of this passionate inspiration since its creation seen through its founders' creative genius, artists in different fields and the world's best bartenders, Campari stimulates your instincts to unlock your passions, inspiring limitless creations.

Negroni
CAMPARI is at the heart of every Negroni.
25ml CAMPARI
25ml Gin
25ml Vermouth Rosso
Pour all ingredients in to an ice filled rocks glass. Stir and garnish with a slice of orange.
CAMPARI G&T
An invigorating blend of campari, gin and tonic. Deliciously bitter and unmistakably Milanese.
25ml CAMPARI
25ml Gin
Premium Tonic Water
Fill a glass with ice, pour in the spirits, add the tonic water and a squeeze of fresh lime, stir and garnish with a fresh lime wedge.